19th March, 2016, matinee
The Crucible – home to the World Snooker Championship – is the perfect space for Richard Bean's new play about snooker match fixing. Through blending snooker fans and theatre fans, this production creates an immersive, sometimes tense, theatre experience.
In many ways, Bean has gone back to his roots with The Nap. Richard Wilson is directing, who oversaw Bean's earlier work. It's a return to a northern setting from which his work has since occasionally moved south. Finally, the snooker scenes in The Nap have the same fascination as his work plays such as Toast and Under the Whaleback.
We're in a snooker hall in a rough part of Sheffield: the door doesn't shut, a pain of glass is boarded up, and the vending machine is out of order. Yet the snooker table stood centre stage is perfect (we later hear that nothing is as flat as a snooker table and nothing as round as a snooker ball). In walks Dylan, a young snooker mogul who's only recently got his tour card. Despite not thriving at school because of his dyslexia, and his parents being crooks, he has kept on the right tracks, spending much of his time playing snooker whilst his mates were up to no good. The opening few minutes are in silence as Dylan methodically prepares the snooker table: slowly brushing, smoothing and ironing it, and cleaning his cue. Similar to watching the rituals of the bread factory and fishing trawlers in the two aforementioned plays, there is something addictive about watching Dylan's meticulous routine.
This is all disrupted when Dylan's reformed dad (Mark Addy) walks in. He walks around Dylan's focused process, bushing his fingers against the tables and repeating 'what a fucking dump', shattering the reverence that Jack O'Connell has created. This well-measured and brilliantly timed opening climaxes in Addy moaning 'it's not the Crucible'. In the ensuing scene, Bean introduces bold characters, and vibrant and raucously funny dialogue. Seeing Hand to God recently, in which some of the jokes fell flat or were crowbarred in with sometimes little respect to how they fit the characters, it is clear that Bean is masterful at writing jokes. It's a play which allows for many funny moments, including parodying bad snooker commentary, and playing with representation and stereotyped characters. A particular highlight is Waxy Chuff (Louise Gold) as a one arm, gangster transgender character with a tendency to fluff her words ('I have a peanut analogy').
The plot is an entertaining con thriller. Dylan's mum and Waxy Chuff have lost some money betting on Dylan and so persuade him to 'tank' (purposefully lose) the fourth frame in an upcoming match. Dylan, determined to play it straight, teams up with cop and love interest Eleanor. But when his mum's drunken Irishman of a boyfriend gets shot dead, Dylan knows he has to tank the frame to save his mum ending up the same way. However, all is not as it seems. Bean has handled convoluted plots before and so it is no surprise there aren't many holes in it, although I didn't fully believe that Dylan would have worked out he'd been conned quite so quickly. Thematically, Bean's other plays such as Pub Quiz is Life and Toast deal with issues such as working class poverty and the decay of northern towns more directly, but The Nap links this theme with honour. In being forced to lose a frame, Dylan has lost 'my game, my honour, my edge'.
A couple of years ago, Dan Rebellato wrote a perceptive blog post entitled 10 audiences I have known, in which he recounts 'the surprising, perverse, accidental and peculiar responses' he's witnessed of fellow audience members. In The Nap, jokes about different local places and associations made audiences applaud and jeer. In the snooker scenes, when actual frames of snooker are played, Ralf Little (as Dylan's manager) warms the crowd up, interacting with individual audience members. It's a clever moment where the performance space also become the fictional place, the audience an active part of the play. When I saw it, a couple of snooker fans (and/or excitable theatregoers) cheered 'Go on Dylan' during the final scene, the referee replying 'quiet please' as in an actual match. It was a fantastic moment in a play that seemed to balance between play, stand-up gig and sporting event. Richard Wilson said that he wanted to direct a snooker play at the Crucible to get a blend of the two audiences, and it seems to have had rewarding effects.
It's worth going more into the addition of John Astley, a professional snooker player, to the production. It was an impressive feat (even to someone who is not a snooker fan) to see him pot each red and then all of the colours. The scene was a tense and powerful piece of theatre, which is ironic considering Astley isn't an actor and doesn't need to say a word.
The Nap
features a great cast including Dermot Crowley and Rochenda Sandall, led by a comic masterclass from Mark Addy and the gritty determination of Jack O'Connor's Dylan. Richard Wilson's accomplished production cleverly uses the snooker table as a form of power play, and James Cotterill's design impressively takes us from the squalor of a run-down snooker hall to the world of money that is the world snooker tour. When I saw Martin McDonagh's exceptional Hangmen before Christmas, I didn't expect to see as funny a play so soon after.
The Nap
plays at The Crucible, Sheffield, until 2nd April.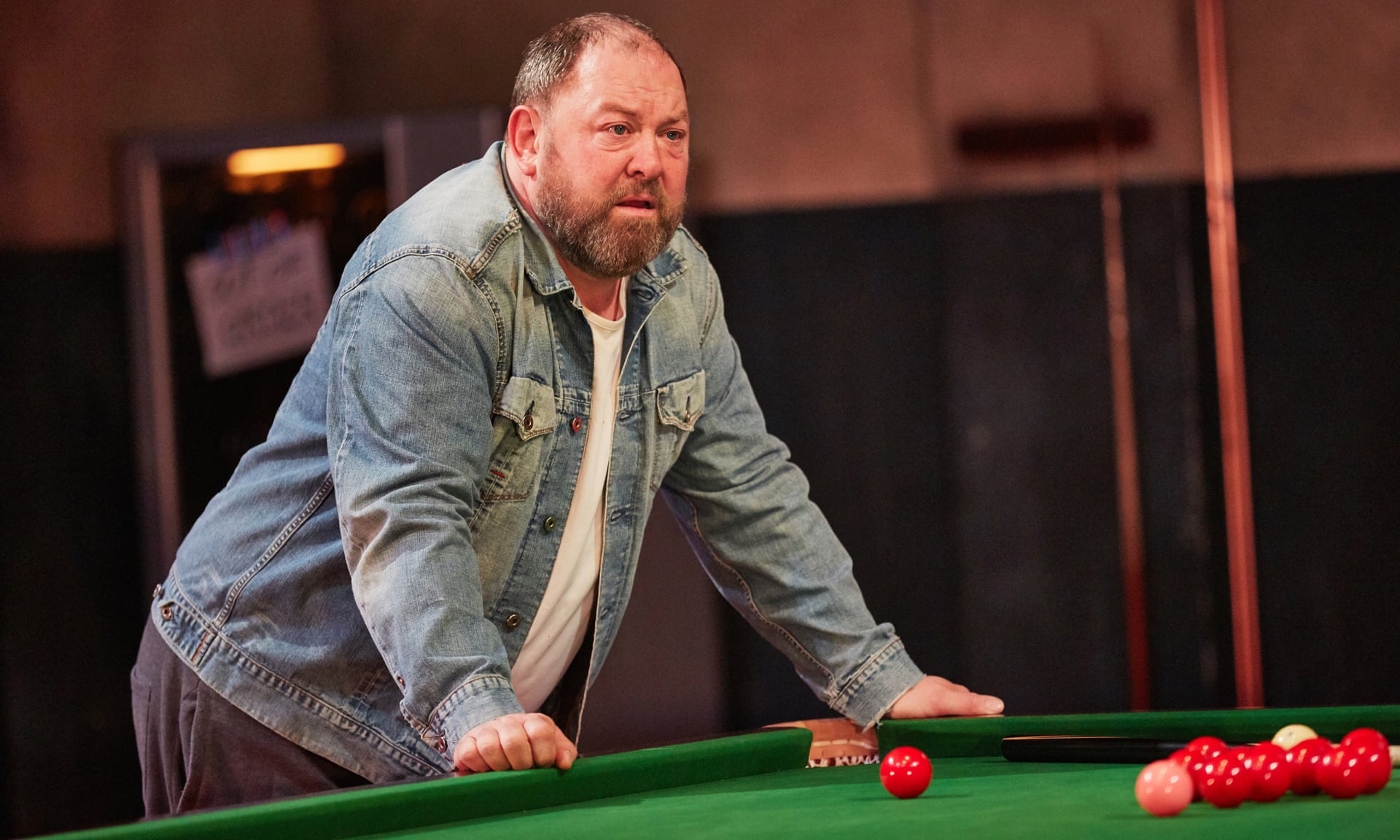 Photograph: Mark Douet.